This research report was produced by The REIT Forum with assistance from Big Dog Investments.
We have several buy ratings today from REITs. Two come from common stocks and four come from preferred shares.
Enjoy!
Arlington Asset Investment Corporation
Arlington Asset Investment Corporation (AI) is in the buy range. We believe it is not one of the better "mortgage REITs" and carries a risk rating of 5. AI is technically a corporation (not a mortgage REIT) but often trades like a mortgage REIT. However, our bearish thesis has played out and the stock has declined significantly. At recent prices, we see AI as a buy.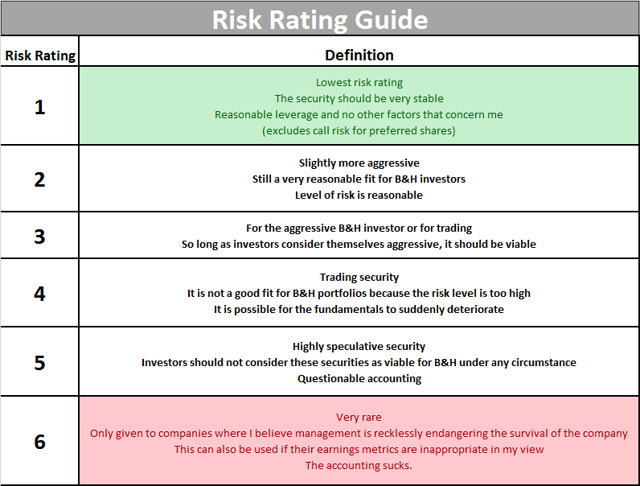 Source: The REIT Forum
Here we can see the decline in price over the last month: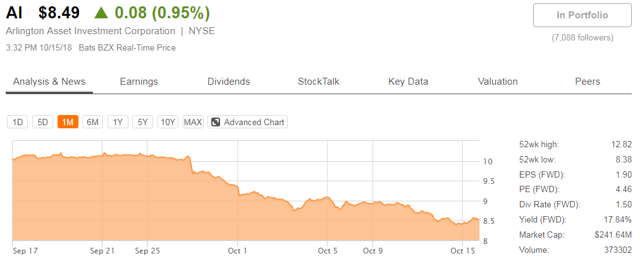 Source: Seeking Alpha
We still believe that the dividend is not sustainable. However, in the short term, AI can continue to pay out the current dividend. Because of the long-term risks, we do not see this security as being a good investment for buy-and-hold investors.
We are focused on tangible book value per share instead of the regular book value per share. The difference between the two comes from deferred tax assets and deferred tax liabilities. If AI were to transition into being a REIT, those deferred tax liabilities would disappear. Management has emphasized this on the earnings calls. We would not be surprised if AI became a REIT in the future. We would be even less surprised if it was acquired by a REIT.
Normally, a buyout is considered a strong bull thesis. We believe a buyout would most likely occur at a slight discount to tangible book value. The board of directors for AI should (if acting responsibly) agree to an offer slightly below tangible book value because AI is relatively inefficient. Despite being internally managed, its operating expenses relative to tangible book value are simply too high. Because of the high operating expenses, AI would have a very difficult time outperforming peers over a long time period.
The biggest risk to this thesis is management's incentive to keep their jobs. We are not convinced that the board would accept a buyout offer even if it would be positive for shareholders.
NLY Preferred Shares
For investors interested in The REIT Forum's preferred share ratings, see my guide to preferred shares. I also have a guide for preferred share dividend captures.
Annaly Capital Management (NLY) has some of the safest preferred shares in the sector. When we apply a risk rating to a preferred share, a large portion of the risk comes from the underlying company. The underlying portfolio holds safe securities for preferred shareholders: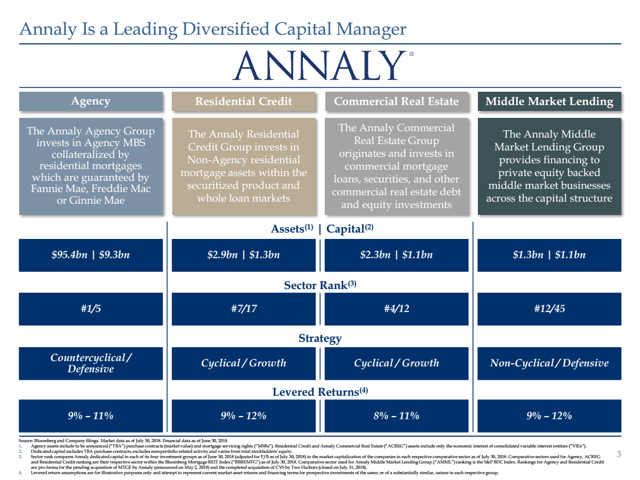 Source: NLY
While its portfolio is made up of many different securities, it is primarily in Agency MBS. These securities are extremely liquid. The liquidity lets the company easily sell off a portion of the portfolio in the event of a market crisis. While NLY may cut the common dividend, it is highly unlikely it'll be cut to zero. The preferred dividend cannot be cut unless the common dividend is cut to zero.
We view the common stock of NLY as a hold.
We see four of the five NLY preferred shares as being in the buy range:

Source: CWMF's subscriber spreadsheet (subscription required for 50+ preferred shares and baby bonds with comparing prices)
NLY's preferred shares carry a risk rating of "1". These are some of the safest preferred shares in the mortgage REIT sector and two of the preferred shares are trading at a discount to their call value of $25.

NLY-F and NLY-G are well into the buy range.
NLY-F has the better stripped yield and a higher FTF (fixed-to-floating) rate after call protection ends.
All in all though, we expect NLY-F to trade about $1.25 to $1.30 higher than NLY-G most of the time. So long as they are within that range, we like them in very similar amounts. We had an opportunity to snag a huge position in NLY-F and were able to get the entire order filled. We currently have a larger position in NLY-F than NLY-G.
It all comes down to looking at the spread in prices when we're ready to place an order.
Federal Realty Investment Trust
Full analysis on FRT (subscription to The REIT Forum required).
Federal Realty Investment Trust (FRT) is a strip-center REIT with an exceptional balance sheet. The REIT has 50 consecutive years of dividend increases with solid growth projected into the future and an excellent dividend coverage ratio. FRT carries a risk rating of 1 and is in the buy range.
FRT gets extra credit for its exceptional performance on ethics. That performance is demonstrated in a few ways.
The first example is management's efforts to be transparent in its accounting.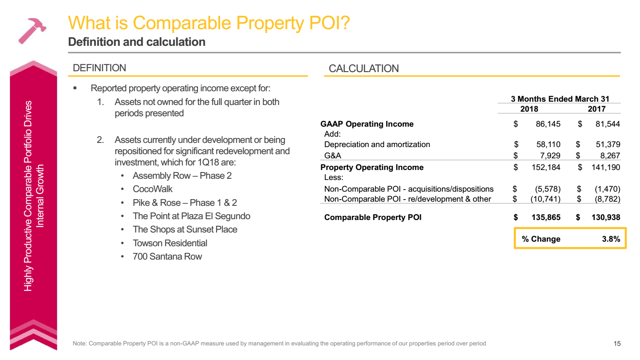 Many REITs would simply use net operating income. FRT decided to use property operating income. It is the same thing. The term is spelled differently, but the calculations are the same. To avoid any confusion, management clearly spelled it out in its investor presentation. It is a positive sign when management emphasizes transparency in its accounting.
Management's emphasis on ethics goes much deeper than simply being transparent in its accounting.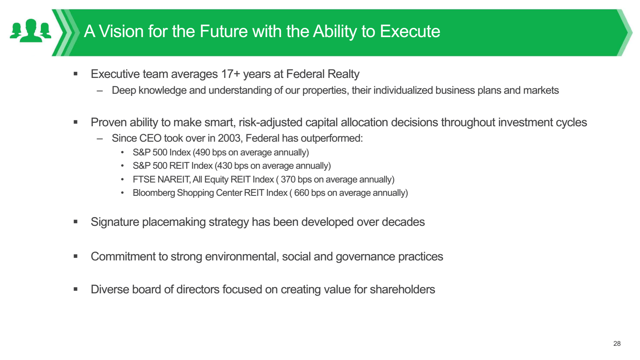 Management has been in place for an average of 17 years. During that time, FRT has dramatically outperformed any reasonable peer group. While historical outperformance is positive, the last two bullets points deserve additional attention. Management is openly committing to strong governance practices. It is highlighting the importance of the board of directors in maximizing value for shareholders. This is an important distinction because great REITs should have a great board of directors.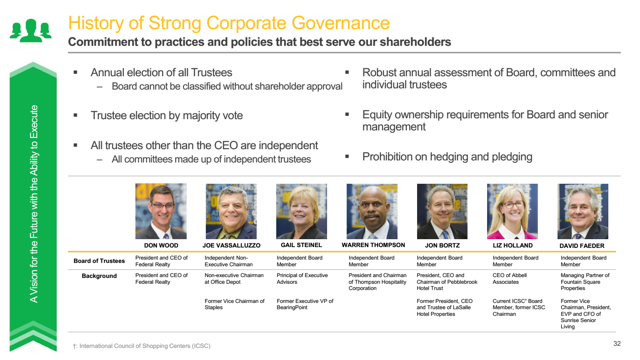 FRT could teach classes on proper corporate governance. The CEO is on the board of directors, but he is not the chairman. This prevents difficulties that many other companies would have. The chairman for FRT is an independent member of the board. With the exception of the CEO, all members of the board are independent. Both the board and senior management are required to own shares of the stock. They are not permitted to hedge their risk from owning shares. This technique aligns the interest of the board with the interest of shareholders.
All members of the board are elected annually. This practice would make it much easier for an activist to take a position and run a campaign. FRT is not concerned about that risk, because it knows that it is already maximizing the value for shareholders. It would be absurd for an activist to target FRT. Activists target companies where management or the board of directors are not properly representing shareholders.
For investors interested in real estate, see my guide on investing in real estate.
Final thoughts
AI's dividend isn't really covered but won't be cut soon. Therefore, we see some upside in the share price. NLY preferred shares are great for income investors. NLY currently has four preferred shares in the buy range. We believe NLY-F and NLY-G are currently at the best valuations. NLY's common shares are just in the neutral range. FRT could teach classes on ethics. The company has an excellent balance sheet and is well into the buy range.
If you enjoyed reading this article and want to receive updates on our latest research, click "Follow" next to my name at the top of this article.
About "The REIT Forum"
The REIT Forum is the #1 rated service on Seeking Alpha. We focus primarily on defensive investments with high growth potential. With our strategy, we have returned 22% every year since the inception of our service. It is our objective to find quality investments at a discount, along with trading opportunities for the more active investors. Most of our research is on companies that are excellent investments over the long term.
Disclosure: I am/we are long FRT, NLY-F, NLY-G, AIC.
I wrote this article myself, and it expresses my own opinions. I am not receiving compensation for it (other than from Seeking Alpha). I have no business relationship with any company whose stock is mentioned in this article.
Related Posts: