A catalyst refers to an event that has occurred in a company, typically within the last 12 months, that would significantly increase its valuation. The value of a company is based on its future ability to generate free cash flow.
Therefore, a catalyst usually improves free cash flow, resulting in a higher implied valuation both because of the better future performance and because of a better implied multiple.
According to Wikipedia, a catalyst is "in a simplified sense, good news or a press release to get people interested in the stock again. Stock catalysts often change investor sentiment and can mark the beginning or end of stock trends. They may affect the perception of a company's discounted future cash flows."
As a REIT analyst, I focus on fundamentals that could materially drive earnings and dividend growth. To be considered a true catalyst, there must be justification to validate the sentiment, not just a suspicion or wild guess.
No Guessing
Back in June I wrote that Investors Real Estate Trust (IRET) "has one last deal to do before the company becomes a "pure play" apartment REIT and that is to liquidate the MOB portfolio.
IRET's MOB portfolio includes 30 properties; all high quality and the majority of which are on-campus, which will surely attract significant investor interest and HTA has SET THE BAR!"
Of course I was referring to IRET's MOB portfolio – a textbook catalyst – that could serve as a tipping point for the REIT to begin to trade in-line with the peers. I explained in June that "based on my best guess (assumption), the Duke Realty (DRE) MOB portfolio traded at ~$450 per square foot, and while IRET's MOB portfolio is more concentrated (90% MN-focused), the sub 5% cap rate (paid by HTA) provides some valuable clues."
IRET's MOB portfolio generates approximately $27 million of NOI (23% of NOI) and applying a 5.4% cap rate, the valuation is $500 million (mid-point of sales/SF estimate). Subtracting at ~$100 million of debt, the NAV for IRET's MOB portfolio is ~$400 million, or $3.05 per share.
I added that that may be "too aggressive" and assuming a more conservative sales/SF comparison ($450 million), and after deducting $100 million, "I come up with $2.67/share".
Last week, in a press release, IRET explained,
"IRET entered into an agreement to sell its medical office portfolio for $417.5 million. The properties, representing approximately 1.3 million square feet, include the Company's entire healthcare portfolio, consisting of 28 healthcare properties and one other commercial property occupied by a healthcare tenant. The agreement is subject to the satisfaction of customary contingencies, and, if those contingencies are satisfied, the Company anticipates the sale to close by the end of January 2018."
IRET's president and CEO, Mark Decker Jr., commented,
"Closing on the sale of our medical office properties will mark a significant milestone for IRET and is the final component necessary to transform us into a focused multifamily company."
Additionally, since the end of its fiscal first quarter in July, IRET sold 22 other non-core properties for an aggregate sale price of $98.8 million, which includes the company's final two senior housing properties, marking IRET's full exit from that segment, as well as three industrial assets and one healthcare asset located in the Twin Cities.

Once IRET closes on the MOB portfolio, the company should be considered a "pure play" apartment REIT and the confusion risk should dissipate. The company should be compared more favorably to the other apartment REIT peers: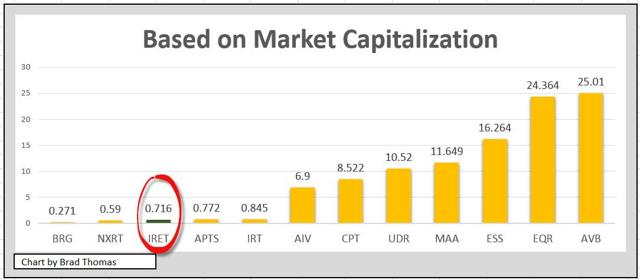 Investors Real Estate Trust: 50-Years Old and Counting
Investors Real Estate Trust is a self-advised equity REIT that was organized under the laws of North Dakota. Since formation in 1970, the business has consisted of owning and operating various income-producing real estate properties. IRET listed on NASDAQ in 1997 and transferred to NYSE in 2012.
The company was previously a diversified REIT; however, its goal is to become a 100% pure-play multifamily REIT; proceeds of non-core asset sales are being re-deployed into multifamily assets and other capital allocation strategies. IRET has gone from 30% multifamily to over 70%, and in a few months closer to 100%.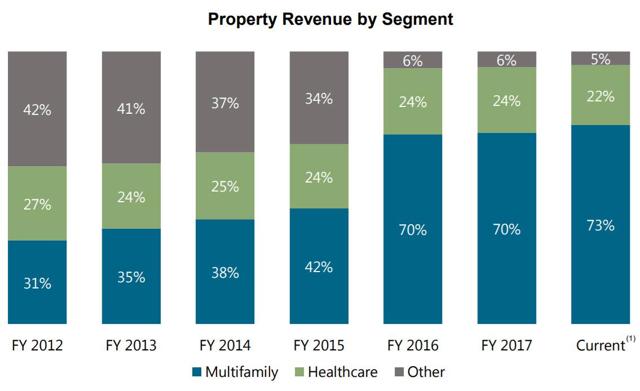 IRET's narrower focus on multifamily properties requires greater specialization from IRET leadership; as a result, the company has made recent additions to the board and management team. As you can see below, the management team brings deep knowledge into the multifamily sector.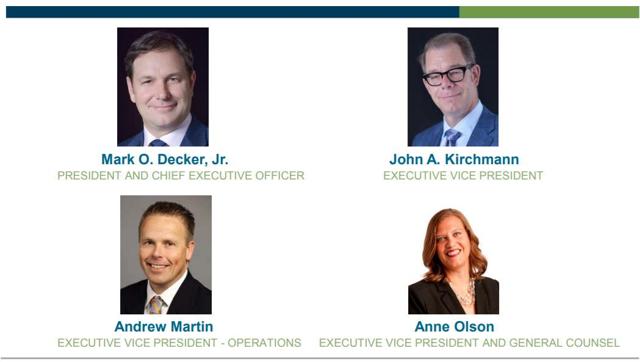 IRET's leadership team is fully committed to growing and transforming the company to be a recognized best-in-class apartment owner and operator. The leadership team expects to improve IRET's portfolio by enhancing its operations, adding quality assets, ad strengthening its financial position.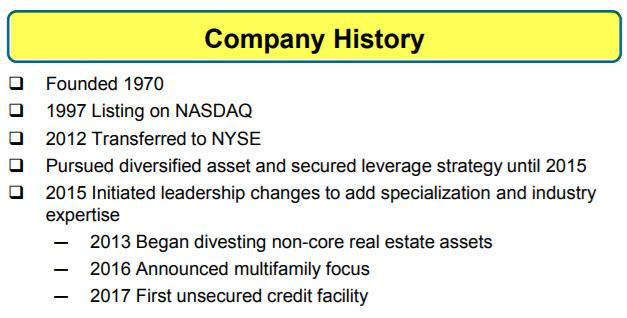 As of July 31, 2017, IRET owned interests in 130 properties that were held for investment, including 88 multifamily properties consisting of 13,076 units and 42 commercial properties, which includes 29 healthcare properties, containing a total of approximately 2.6 million square feet of leasable space.
As illustrated below, the goal is to become a 100% pure-play Upper Midwest-focused multifamily REIT:

In conjunction with its ongoing disposition of non-core assets and strategic goal of growing its multifamily asset base in Top-25 MSAs, IRET entered the Denver, Colorado, market by acquiring Dylan Apartments for $90.6 million.
The 274-unit apartment community, completed in 2016, is located in the fast-growing River North Art District and offers modern-style flats, which are designed with contemporary luxuries mixed with a tribute to the area's industrial beginnings.
The Transformation, Almost Complete
Over the past three years, IRET has made monumental progress to transform the company by investing (through acquisition or development) more than $607 million in newer or brand new high-quality apartment communities.
IRET sold more than $756 million of non-core commercial and senior housing properties, and achieved good execution and pricing, utilizing proceeds to fund new investments and significantly de-lever the company.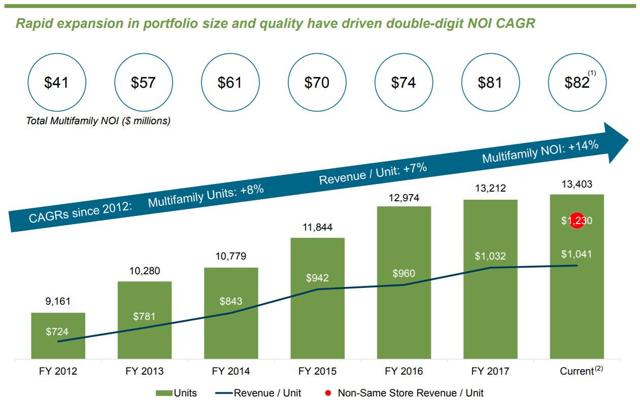 In regard to acquisitions, IRET continues to target newer, higher-quality apartment communities in the larger Midwestern MSAs. Markets remain competitive for these type of assets, and IRET is looking for situations that offer components to provide a more attractive stabilized return. On the latest earnings call, IRET's CEO explained,
"We increased same store revenue and occupancy in our multifamily portfolio, both sequentially and year-over-year, and for the first time in our history pushed above $1,000 of average revenue per unit at our same store properties."
Decker added,
"…early in the quarter we completed a six months strategic exercise to create a plan that serves as a reliable roadmap to guide IRET through its transformation and beyond to hold our team accountable for results. With the combination of research data and thoughtful discussion we concluded the deepening our presence in the Twin cities metro and growing into Denver and Chicago market provided the best prospects for rational and disciplined growth.

Each of these markets are Top 25 MSAs with diverse economies, deep and liquid investment markets, timely and reliable data, and submarket that contain strong, favorable dynamics for long-term apartment ownership.

We are confident that we can build a great business in these markets and be a valuable market participant. It's also notable that these markets have relative lack of coverage by other multifamily REITs. So with thoughtful execution, we will have an outstanding business for our existing shareholders and appeal to a broader audience."
The Balance Sheet
IRET is a small-cap REIT so the company is not going to attract investment grade ratings anytime soon; however, it has reduced liabilities and reduced leverage metrics. Long term, IRET's goal is to achieve credit rating metrics in line with the peer group with an investment grade rating.
IRET recently expanded its unsecured, syndicated revolving credit facility with commitments now totaling $300 million, an increase of $50 million from prior commitments.
In addition, the company closed a $70 million unsecured term loan that matures in 2023. These financing activities come on the heels of IRET's previously-announced issuance of 6.625% Series C preferred shares and redemption of 7.95% Series B preferred shares.
Together, these capital market transactions increase the strength and flexibility of IRET's balance sheet and enhance its available liquidity.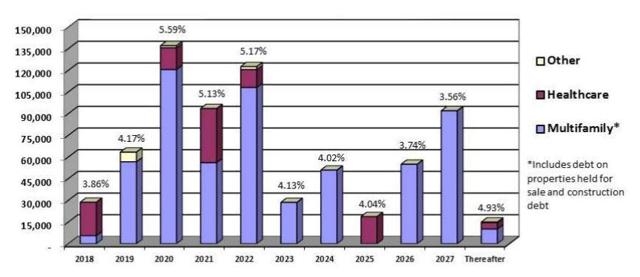 At the end of the latest quarter, IRET had total debt of approximately $839 million. During the quarter, outstanding debt increased by $45 million related to the acquisition of Oxbo and at quarter end, the company had $24 million of cash and cash equivalents, and $94 million of availability on the line of credit.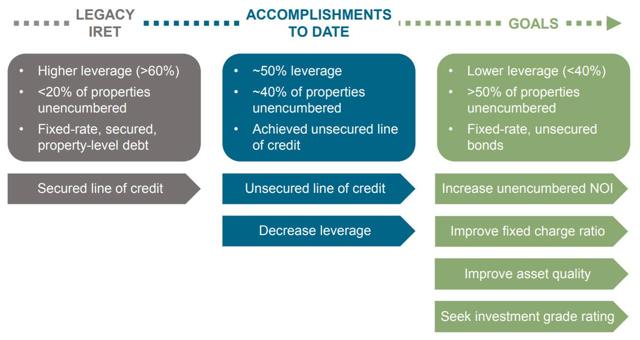 A Textbook Catalyst That Should Move The Multiple
In Q1-18, IRET reported total revenue of $52.7 million for the quarter ending July 31, 2017, an increase of 6.3% from the fiscal first quarter of 2017. Core FFO was $13.7 million, or $0.10 per share for the quarter compared to $0.11 per share for the same period last year. FFO was $0.10 per share this quarter compared to $0.12 per share for the same period last year.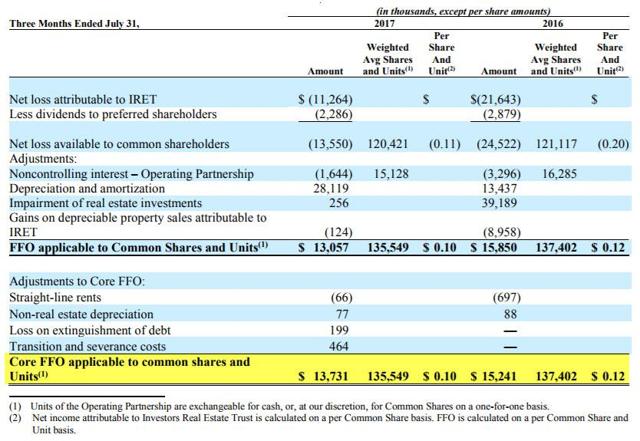 In the previous quarter, IRET reduced and tightened its guidance range to $0.41 to $0.43 per share from the previous guidance of $0.48 to $0.52 per share, which is an $0.08 adjustment at the midpoint.
The drivers of this change were, first, a $0.04 reduction from lower-than-expected multifamily portfolio operating results, partially offset by a reduction in expected G&A. Second, a $0.04 reduction due to prepayment penalties, and the write-off of unamortized fees related to the redemption of the Series A preferred stock, partially offset by lower interest costs.
As a REIT analyst, I focus on fundamentals that could materially drive earnings and dividend growth. To be considered a true catalyst, there must be justification to validate the sentiment, not just a suspicion or wild guess.
This transaction is a textbook catalyst that should remove some of the overhang.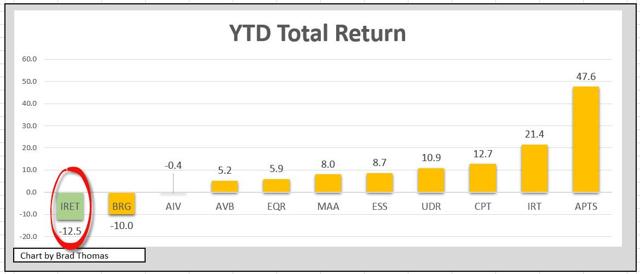 Now take a look at IRET's dividend yield compared with the peer group: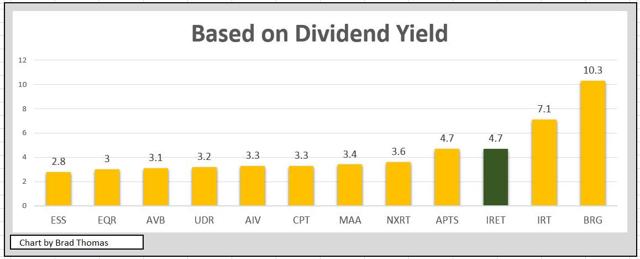 As you can see, IRET has seen a steady decline in FFO, and more recently, the company cut its dividend. In a recent article, I explained, "the dividend cut is a 'done deal'" as IRET wanted a capex policy which is related to AFFO that is more consistent with the peers.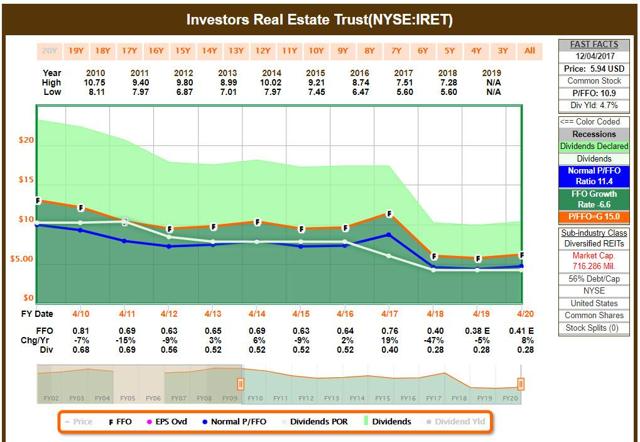 IRET's annual dividend is $0.28 per share and it is well-covered and in-line with sector peers: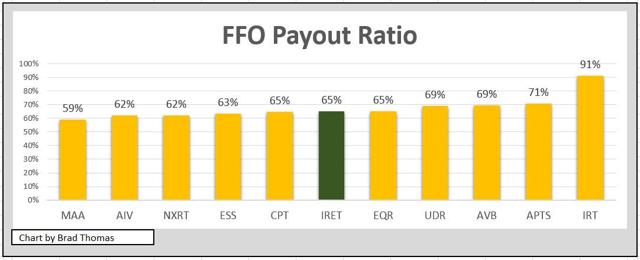 Now take a look at the P/FFO multiple:

As you see, IRET is trading at the lowest multiple in the peer group. This is not rational in my opinion, as the market is providing IRET with no value for the MOB portfolio (~$2.50/share). Shares are now trading under $6.00 and there is no reason that IRET can't narrow the valuation gap and trade in-line with IRT and APTS (target 14x).
Also, unlike Preferred Apartment (APTS) that has become a more complicated story (diversified portfolio with significant non-traded preferred shares) or NexPoint (NXRT) (an externally-managed REIT), IRET has one circle of competence, or it will soon…
I am targeting IRET to return 25% or more over the next 12 months. The MOB sell is the trigger (catalyst) that should simplify the business model while also providing improved financial flexibility. Another catalyst, albeit not as strong, is Tax Reform, and I believe that IRET's customer base will benefit from rising wages and enhanced wealth creation, and of course now you know why I called this article,
Textbook Catalyst That Should Move This REIT Multiple.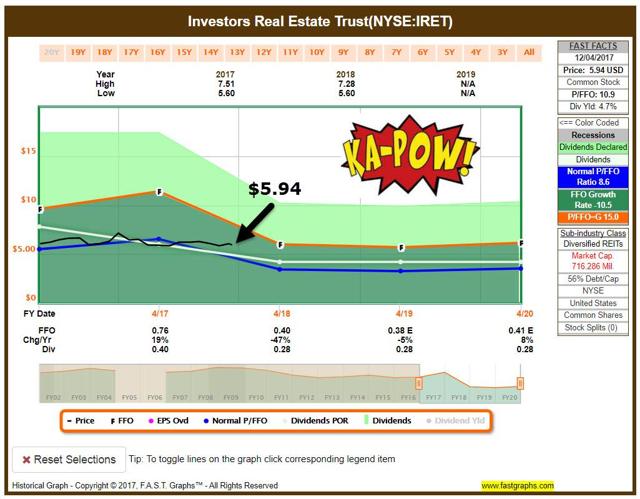 From The Intelligent REIT Investor
As any portfolio manager recognizes, the key to building a successful portfolio is to maintain adequate diversification across property types. REITs have consistently outperformed many more widely known investments. Over the past 15-year period, for example, REITs returned an average of 11% per year, better than all other asset classes. By maintaining a tactical exposure in the brick-and-mortar asset class, investors should benefit from my REIT research.
Subscribe Today
The Intelligent REIT Investor is the #1 REIT Research site. We publish exclusive content on over 100 REITs, and our Durable Income Portfolio has returned over 12% YTD. We recently announced that the Small Cap REIT Portfolio has returned over 20% YTD. There is absolutely no reason to chase yield… let us do all of the heavy-lifting so you can "sleep well at night".
Note: Brad Thomas is a Wall Street writer, and that means he is not always right with his predictions or recommendations. That also applies to his grammar. Please excuse any typos, and be assured that he will do his best to correct any errors, if they are overlooked.
Finally, this article is free, and the sole purpose for writing it is to assist with research, while also providing a forum for second-level thinking. If you have not followed him, please take five seconds and click his name above (top of the page).
REITs mentioned: (BRG), (APTS), (NXRT), (IRT), (AIV), (CPT), (UDR), (MAA), (ESS), (EQR), and (AVB).
Sources: FastGraphs and IRET Investor Presentation.
Disclosure: I am/we are long APTS, ARI, BRX, BXMT, CCI, CHCT, CIO, CLDT, CONE, CORR, CUBE, DDR, DLR, DOC, EPR, EXR, FPI, FRT, GMRE, GPT, HASI, HTA, IRET, IRM, JCAP, KIM, LADR, LAND, LMRK, LTC, MNR, NXRT, O, OHI, OUT, PEB, PEI, PK, QTS, REG, RHP, ROIC, SKT, SPG, STAG, STOR, STWD, TCO, UBA, UNIT, VER, VTR, WPC.
I wrote this article myself, and it expresses my own opinions. I am not receiving compensation for it (other than from Seeking Alpha). I have no business relationship with any company whose stock is mentioned in this article.
Related Posts: