Just over two years ago, as the oil crash dragged on, Kinder Morgan (NYSE:KMI) was forced to face the reality of its financials and cut its dividend by 75%. Investors who had listened to KMI's rhetoric of a steadily increasing dividend into the 2020s came up with a new term getting "kindered" as they felt the financial effects of the company's decisions.
Despite this, the management remained invested in the company and the company remained dedicated to growing its cash flow. As we will see throughout this article, the company's strong market position, improvement in finances and cash flow, and growth potential make it a strong investment at the present time.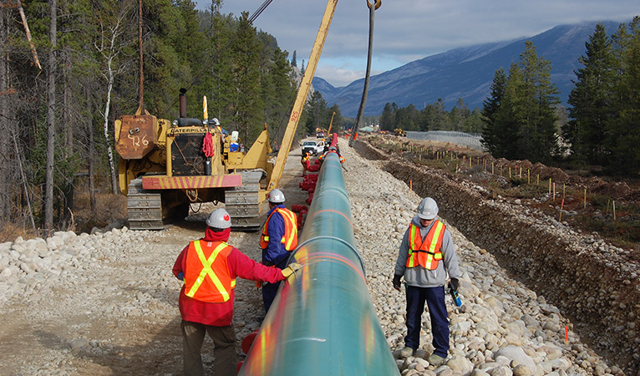 Kinder Morgan's Strong Market Position
Kinder Morgan has a dominant position in North American natural gas. This, combined with the anticipated growth in natural gas in the coming years, means good things.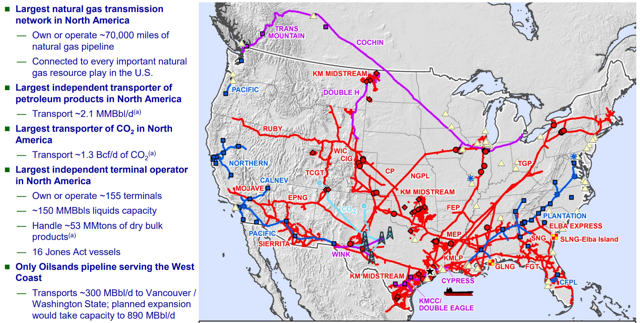 Kinder Morgan Assets – Kinder Morgan Investor Presentation
Kinder Morgan has one of the largest natural gas networks in North America and owns or operates a significant 70 thousand miles of pipelines. The company is connected to all major natural gas plays in North America and moves an astounding 2.1 million barrels per day of petroleum products along with 150 million barrels of liquid capacity.
The company also has the only oil sands pipeline serving the West Coast with planned expansion to reach almost 1 million barrels per day. The company having the only pipeline gives it a dominant market position and allows it to significantly increase its income going forward.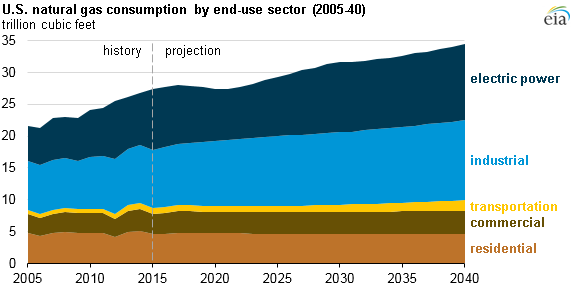 U.S. Natural Gas Consumption Growth – EIA
While still a fossil fuel, natural gas is noticeably cleaner than many other forms of energy such as coal mining. As a result, most realistic transition plans to cleaner energy involve using natural gas as an intermediary between renewable energy and coal.
As a result, natural gas production is anticipated to grow by 40% over the coming 25 years, production that will need to be transported.
That growth in transportation will mean significant income growth potential for Kinder Morgan as it undergoes additional projects. And this means good things for Kinder Morgan based on its strong market position going forward.
Finance and Cash Flow Improvement
On top of this strong market position, Kinder Morgan has strong cash flow generation prospects.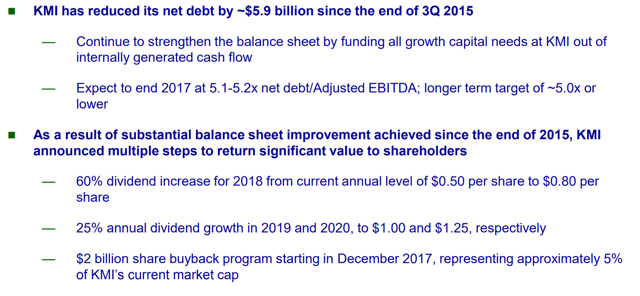 Kinder Morgan Finance Improvements – Kinder Morgan Investor Presentation
Kinder Morgan has managed to reduce its net debt by an astounding $5.9 billion since it cut its dividend and continues to strengthen the balance sheet as the company funds all expansion out of internal cash flow rather than withdrawing debt as it used to do. As a result, Kinder Morgan plans to exit 2017 near its long-term debt target, which means good things for the company going forward.
As a result of these improvements, Kinder Morgan anticipates growing its dividend to $0.80 per share for 2018 and continuing growth to $1.25 per share for 2020. While this number is still only 62.5% of where the dividend was in 2015, it's important to know that this dividend takes into account continued expansion of the company, all of which is funded by internally generated cash flow.
The company is also starting a $2 billion buyback program which will be enough to buy back 5% of its existing market cap. This is a sign from the company, given the stakes that senior management has in the company, that it believes it is undervalued at the present time, and is a strong sign to investors that the company is a good investment.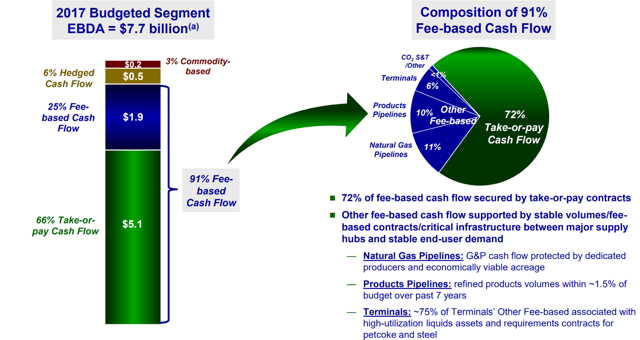 Kinder Morgan Cash Flow Budgets – Kinder Morgan Investor Presentation
Currently Kinder Morgan has a 2017 budgeted segment EBDA of $7.7 billion, a significant amount for a large company with a market cap of just over $40 billion. Out of this, 91% is fee-based cash flow, which means that this cash flow is resilient to changes in oil prices. While companies going out of business could stop this cash flow from being paid, the likelihood of that happening especially as the market recovers is small.
As a result, Kinder Morgan has a fairly small sensitivity to changes in oil prices with a change in DCF of $6 million per $1 per barrel change in oil prices. That means, even if oil prices recover to more than $100 per barrel or drop to $25 per barrel, the company's cash flow still will change by less than 10%. That means investors don't need to be too worried about changes in oil prices affecting the company's earnings in the short term.
On top of this, the company's anticipated capital budget for 2017/2018 is $3.0 billion, and its 2018 planned dividends should cost it roughly $2 billion. That means the cover, now that it has slowed down repaying its debts as it has reached a comfortable level, can cover both its dividends and expansion with its current financials.
This shows the strength of Kinder Morgan's financials at the current time and how the company has gone from "kindering" you to a top-tier investment.
Growth Potential
Kinder Morgan also has significant anticipated growth potential that should increase its income and dividend potential going forward.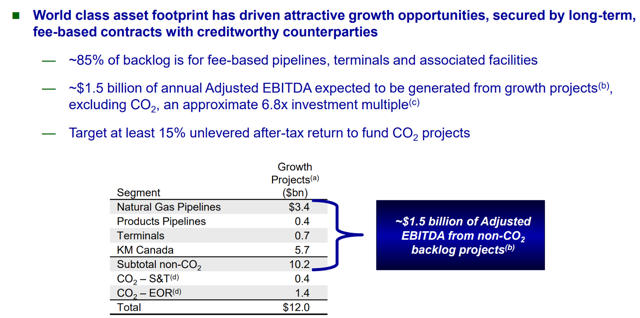 Kinder Morgan Project Backlog – Kinder Morgan Investor Presentation
Kinder Morgan has $12 billion in interesting growth projects, of which 85% is fee-based. That means as the company undergoes these growth projects, which should take roughly four years based on its current investment, the company should see its adjusted EBITDA increase by roughly $1.5 billion annually.
That extra EBITDA can be used to allow the company to almost double its dividend in the next four years as it continues to spend $3 billion annually in growth. Out of these projects $5.7 billion is through KM Canada with its TransMountain pipeline that should get approved first. This pipeline will have a monopolistic position in its market in Canada and bring strong cash flow to Kinder Morgan for decades to come.
Conclusion
Kinder Morgan ran into some trouble two years ago, and as a result of being forced to cut its dividend got a reputation for "kindering" its investors as the company's stock price dropped by more than 50%. However, the company has done an amazing job of recognizing its mistakes, and has already paid of almost $6 billion in debt in two years, decreasing its debt to EBITDA to just over 5.0x.
At the same time, the company has toned down its spending and worked to manage its investments so that it only focuses on long-term growth projects rather than acquisitions which often have a premium. The company is also focused on recovering its dividend now that it has the cash flow to do so. That means great things going forward for shareholders as Kinder Morgan turns into a top-tier investment.
Disclosure: I am/we are long KMI.
I wrote this article myself, and it expresses my own opinions. I am not receiving compensation for it (other than from Seeking Alpha). I have no business relationship with any company whose stock is mentioned in this article.
Related Posts: