Geron (GERN) presents a simple value proposition. If its contribution to cancer treatment can reel in the big fish that has been on its hook since 2014, Geron's investors will prosper. Otherwise not, or so the conventional thinking has been.
This article will stick with the conventional thinking for the time being. Latest signs are that Geron's long prosperity is coming into sight. Let me explain.
The shorts have been dogging Geron for years; a comeuppance is due.
Geron has proven itself to be a tasty meal for shorts, for a long, long time. Longs, who have eaten the shorts' poisonous dust for so many years, are understandably sensitive. By their lights, those who expound a short thesis for Geron are crooks. They write "hit pieces."
Anyone who defends one of these hit pieces is "questionable." At best, they are prisoners of some long forgotten American virtue like fairness. At worst, they, or their friends, are trying to drive the stock down so that they can profit from losses by some virtuous long who can no longer stand the insult.
At this point, I have a hard time believing that bear raids on Geron are truly damaging for committed investors. Sure they are a nuisance and create disappointing distortions in the share price; however, they can't change the material issues.
They can't change (1) whether or not Johnson & Johnson's (JNJ) subsidiary Janssen exercises its continuation rights under its 2014 collaboration agreement with Geron, and (2) whether Geron has sufficient cash to effectively elect whether or not to "opt-in" or "opt-out" following a continuation decision.
I am optimistic on both counts. On the continuation issue, see: "Geron: Decision Next In Line." On the cash sufficiency point, I draw comfort that Geron's much-maligned CEO has accumulated a healthy stash. Geron is:
…ending the second quarter with $181.4 million in cash and marketable securities.
This, coupled with the $65 million fee it would garner following its opt-in decision, should be sufficient to satisfy Geron's credibility in opting-in.
Geron has travelled a long and lonesome roadway.
Geron's Janssen collaboration deal has kept Geron's investors on tenterhooks since it first came into being on 11/13/2014.
After initial optimism following deal announcement, Geron has been unable to hold any sustained move, up or down. Now nearly four years later we are just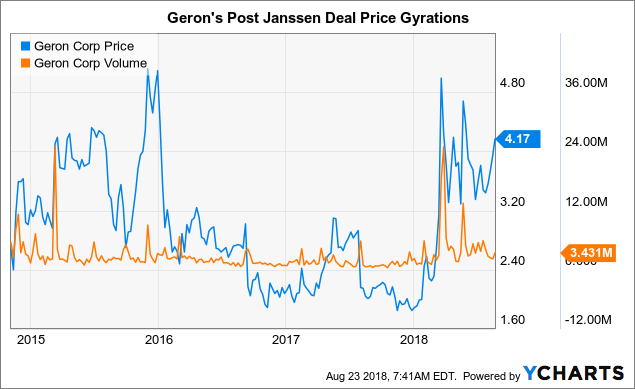 slightly better than even, where we started before the deal was announced. Of course when you consider opportunity costs, it has been an expensive endeavor.
The premise of this article is that a breakout is imminent. Regardless of all the sturm und drang that may arise over Geron's long travails, there is one key point. Will Janssen elect to take the next big step of issuing a positive continuation decision?
The latest information on Nasdaq (as of 7/31/2018) shows Geron short interest at >58 million shares. This is its highest reading for the last year. This creates a deep reservoir of motivated buyers in the event of positive developments for Geron.
Note the volume and price spikes early in 2018 shown on Geron's stock price chart above; these are aborted runs that Geron has already made when sentiment favored a positive continuation decision. The last upward sloping line on the chart reflects Geron's current trajectory.
If Janssen elects to go ahead, it should create a classic short squeeze as the shorts stumble over themselves to acquire shares so that they can close their short positions. We should know Janssen's decision by September 30, 2018. Relying on Parkinson's law, I have been of the opinion that Janssen would run out its string all the way or close to 9/30/18 before we would know anything definitive.
As I will discuss, recent news suggests an earlier decision could be at hand.
Shimmering through the distorting heat, our destination, possibly on a near horizon, appears closer than the maps predicted.
I have been using the metaphor of a data desert to describe our (Geron longs) dilemma following Geron's Q2, 2018, earnings CC. On Monday, August 20, 2018, Seeking Alpha posted the following unexpected news item:
Johnson & Johnson to update on pharma business September 13

Johnson & Johnson (JNJ +1.9%) will host a conference call for investors at 8:00 am ET on Thursday, September 13 to review its pharmaceutical business.
This slight blurb positively lit up the comment stream to this metaphoric article. The range, and depth of analysis was quite intense.
The fact that caused all the interest was the temporal proximity (9/13/18) of the conference call to the 9/30/18 expected continuation decision. Impromptu investigative reports established that this 9/13/18 CC was not in proper sequence with Johnson & Johnson's regular biannual reports.
Naysayers volunteered that this could simply be a coincidence or possibly the beginning of a new sequencing of conference calls. One point that seemed to draw broad consensus was the notion that, if the call addressed the continuation decision, it likely was not a negative continuation decision. No one is likely to call special attention to a failed initiative.
Several noted that a call themed around JNJ's hematology portfolio would be appropriately timed around 9/13/18, the starting date for the next World Congress of the International Society of Hematology (ISH). This plays directly into a discussion of IMerge and IMbark and the continuation decision.
Conclusion
I am agnostic as to whether or not 9/13/18 will prove significant in fact to the Geron saga. I did check out the slide deck from Johnson & Johnson's last regularly scheduled Investor Presentation (Pharmaceutical Business Review Day). It was a gargantuan 353 slide affair.
It mentions imetelstat on several slides. The mentions I encountered were routine boilerplate as shown on slide 6 of 353 below: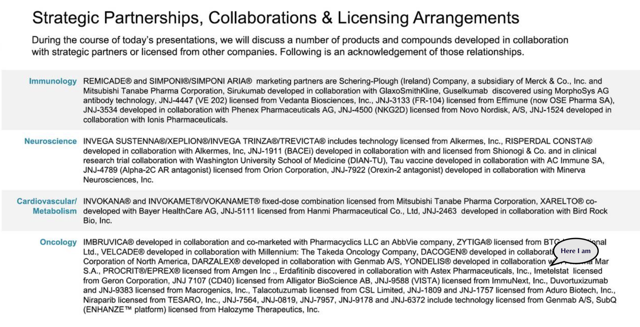 My take from this is that Janssen's Geron deal is riding a crowded train, not driving a car. It seems unlikely that Janssen's Geron collaboration is a major player in Johnson & Johnson's 9/13/18 conference call. If it is, I will be elated that I was wrong. No harm, no foul.
Never mind, this entire 9/13/18 CC is a distraction. If it brings good news for longs, then it will be good news indeed.
If, as I expect, it has little or nothing to do with Geron, then forewarned is forearmed. We still have a short stew on the near horizon. The longer this stew simmers, the more savory it becomes.
I have said it ad infinitum. I will say it again. I think Geron has the best short fuse risk-reward ratio of any stock I know. $10 by 10/10 – that is the clear diktat from my latest seance.
Nonetheless, it carries great risk. Do not invest more in this stock than you can afford to lose. It can be extremely exciting to follow its various nuances; I have to remind myself to curb my enthusiasm to keep from overcommitting to the name. I suggest that my readers do the same.
Disclosure: I am/we are long GERN, JNJ.
I wrote this article myself, and it expresses my own opinions. I am not receiving compensation for it (other than from Seeking Alpha). I have no business relationship with any company whose stock is mentioned in this article.
Additional disclosure: I may buy or sell shares in GERN or JNJ over the next 72 hours.
Related Posts: