Today, I am going to compare the recently released Q3 earnings reports from Exxon (XOM) and Chevron (CVX). The chart below summarizes several important operational and financial metrics in order to compare the relative performance of the two companies:
| | | |
| --- | --- | --- |
| | EXXON | CHEVRON |
| Total Production (millions of boe) | 3.79 | 2.96 |
| % change qoq | +3.8% | +4.6% |
| % change yoy | -2.4% | +8.8% |
| Permian Production (boe/d) | 170,000 | 338,000 |
| % change qoq | +17% | +25% |
| % change yoy | +57% | +80% |
| Free Cash Flow (billions) | $7.2 | $5.6 |
| Net Income (billions) | $6.24 | $4.05 |
| % change qoq | +58% | +19% |
| % change yoy | +57% | +107% |
| Shares Outstanding (billions) | 4.271 | 1.917 |
| Production/share | 0.89 boe | 1.54 boe |
| FCF/Share | $1.69 | $2.92 |
| Net Income/Share | $1.46 | $2.11 |
Source: Exxon Q3 Supplemental; Chevron Q3 EPS Supplemental
Production
From a production standpoint, Chevron continues to significantly outperform Exxon on both a qoq and yoy basis. On a yoy basis, Exxon's production actually fell 2.4% while Chevron's grew 8.8%. That is primarily because of Exxon's relatively weak new project production profile as compared to Chevron's LNG mega projects Gorgon and Wheatstone.
In the Permian Basin, Chevron is also outperforming. This is not surprising considering Chevron's long-held leasehold advantage and Exxon having to make a relatively recent major acquisition in the Basin just to catch-up. As a result, Chevron is producing roughly 2x the production of Exxon in the Permian. But what is interesting is that during last quarter's Q2 conference call, Exxon reported it was running 34 rigs in the Permian, and 38 at the end of Q3. Compare that to Chevron – which was running 19 rigs in Q2 and is still running 19 rigs. Point being, Chevron certainly seems to be getting much more production out of each rig operating in the Permian as compared to Exxon. That is, Chevron not only grew qoq production at a faster pace, but off of a significantly higher starting point as well. Note that Chevron's performance in the Permian is significantly exceeding even the company's own expectations: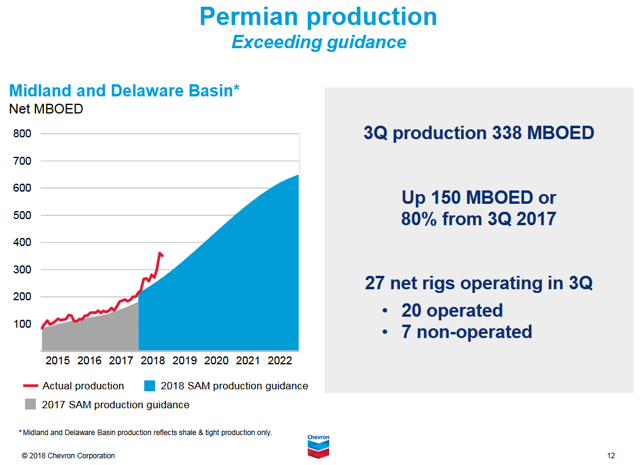 Source: Q3 Presentation
Free Cash Flow & Net Income
Both companies – helped by higher realized prices – recorded excellent free cash flow during Q3. On a net income basis, Chevron's earnings more than doubled on a yoy basis and grew 19% sequentially. Exxon's earnings grew only 57% yoy, and their sequential performance had more to do with a very lackluster Q2 performance than it did with anything related to operations (but note that production did grow 3.8% qoq). The relative performance shows that Chevron is more highly levered to the price of oil as compared to Exxon, which has the advantage in downstream refining and chemicals.
Per Share Metrics
The primary reason that Chevron's shares closed today at $114.73 (up $3.56/share), much higher than Exxon's stock – $81.95 (up $1.28), is because Chevron has less than half (55% fewer) the total number of fully diluted outstanding shares as compared to Exxon. This is why all the per share metrics are so much higher for Chevron.
This may seem like a crude analysis (pun intended), but if we take the per share quarterly production/FCF/net income metrics of Chevron, and divide them by Exxon's, we get 1.7, 1.7, and 1.4, respectively. Taking the average (1.6) and multiplying it by the price of Exxon's stock at today's close ($81.95) would imply Chevron should be priced closer to $131/share than to $114, all else being equal.
Summary & Conclusion
The battle between the top two U.S. majors continues, with Chevron continuing to outperform. But neither company is getting much love from a market that watched the price of oil fall drastically in October and has a ton of economic and geopolitical concerns to worry about. But as I said in my full-year 2017 comparison of the two companies (see 2017: Chevron Outperforms Exxon (Again)), why would an investor ever buy Exxon when it could buy Chevron instead?
Yet, the big wildcard for Exxon is the world-class oil discoveries the company has made in Guyana (see Why is Nobody Talking About Exxon's Massive Guyana Discoveries) – which the company is "fast-tracking" into production. Just a couple months ago Exxon announced yet another discovery in Guyana (its ninth) and said the estimated resource is now more than 4 billion barrels. Exxon says production in Guyana could reach 750,000 bod by 2025. So there is no doubt that Guyana will have a significant impact on Exxon's production growth profile going forward. The question then becomes: can it actually help move the stock? I say this because Exxon's stock has gone practically nowhere over the past 10 years and is actually down over the past 5 years:
Source: Yahoo Finance
As a result, investors have been left with a 4% yield and not much else. That said, I did notice a different tone on today's quarterly conference call. The arrogance that the company previously displayed on the conference calls appears to be a thing of the past. I never understood where it come from in the first place considering the company had become such an underperformer. As a decades long investor in Exxon, I'm glad to see there is a much more free-flowing feeling to the Q&A session and, just maybe, a bit more transparency at Exxon. Hopefully, this means that the current management team is recognizing the significant lack of total returns Exxon has generated over the past decade as the stock market itself has zoomed higher. Better yet, perhaps they are taking pragmatic action to correct the problems that led to such a severe lack of total returns as compared to the company's past.
While Chevron's stock is also down over the past 5 years, at least it is up roughly 50% over the past 10 years. Like Exxon, Chevron also pays a healthy 4% dividend and appears to be the more undervalued of the two companies. As I said, when judging in comparison to Exxon, Chervon's fair price appears to be closer to $135 than $114. If I didn't own either (full-disclosure – I own both), I'd certainly buy Chevron over Exxon.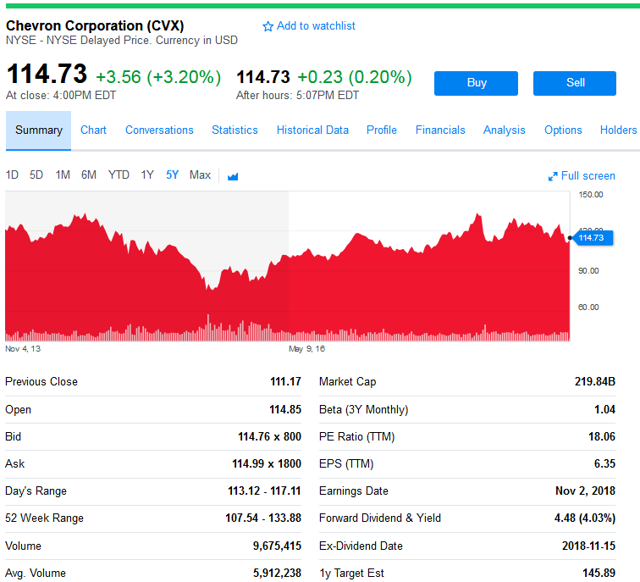 Source: Yahoo Finance
Disclosure: I am/we are long CVX, XOM.
I wrote this article myself, and it expresses my own opinions. I am not receiving compensation for it (other than from Seeking Alpha). I have no business relationship with any company whose stock is mentioned in this article.
Additional disclosure: I am an engineer, not a CFA. The information and data presented in this article were obtained from company documents and/or sources believed to be reliable, but have not been independently verified. Therefore, the author cannot guarantee their accuracy. Please do your own research and contact a qualified investment advisor. I am not responsible for investment decisions you make.
Related Posts: