Subscribers to "Retirement: One Dividend At A Time" got an early look at this material via free instant text message trade alert and email alert.
Most folks go to Tanger Outlet Centers (NYSE:SKT) looking for a good bargain. They're looking to score the latest upscale fashions for a discount.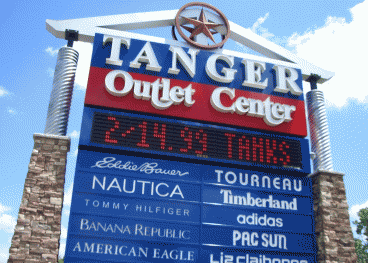 We, however, shopped at the New York Stock Exchange and found us a great bargain. Tanger Outlet Centers was on sale, for a 39.3% discount from its 52-week high. We initiated a starting position of 200 shares at $22.67 just two weeks ago. Its $1.36 dividend brought us a handsome yield of 6.04% at the price we paid. With shares currently selling for $24.35, today's new buyers will only receive a yield of 5.63%. What a difference a couple of weeks make.
The Early Score
Retail in general has been under assault from the Amazon (NASDAQ:AMZN) threat, written large in investors' minds. Because I determined that Tanger distinguishes itself by its unique concept, higher rent per square foot, low tenant turnover and excellent management, it was my feeling that indiscriminate selling, especially in this name, was overdone.
In just two weeks' time, because we exercised patience and waited for continuing investor disenchantment to drive the stock price down to our target entry price, we're already seeing capital appreciation of 7.41%, or $336.00, as I write this on Tuesday afternoon.
Our 200 shares added $274.00 of annual income for subscribers to our subscriber portfolio. Total portfolio income in the subscriber RODAT Portfolio has now risen to $32,061 as a result of this and our recent purchases of additional shares of Omega Health Investors (NYSE:OHI) and AT&T (NYSE:T). Our total portfolio yield on cost has now risen to 6.69%.
What A Difference A Good Earnings Report Makes
A good earnings report can certainly have a salutary effect on disappointed investors. A good earnings beat has the power to turn things around, and turn around Tanger did. The third-quarter 2017 report was replete with good news for investors willing to recognize it.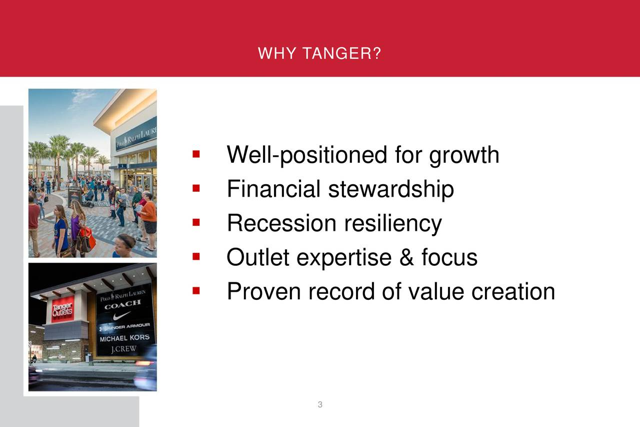 Geographic Diversification
Tanger is well-diversified geographically, with 44 outlet centers spread around the nation.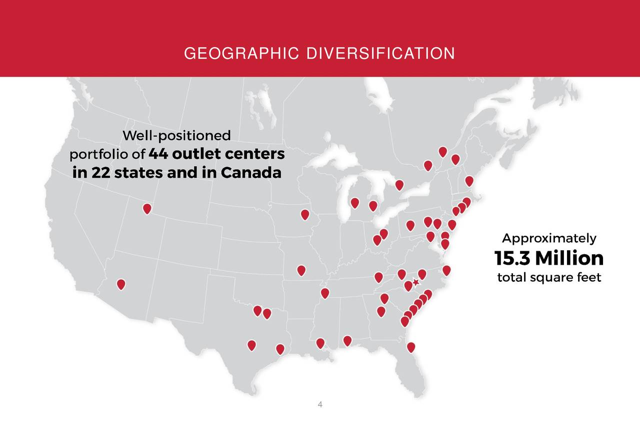 Important Metrics Holding Strong
Though NOI and rental increases showed some decline, both metrics were still solid, with base rent still increasing 15%.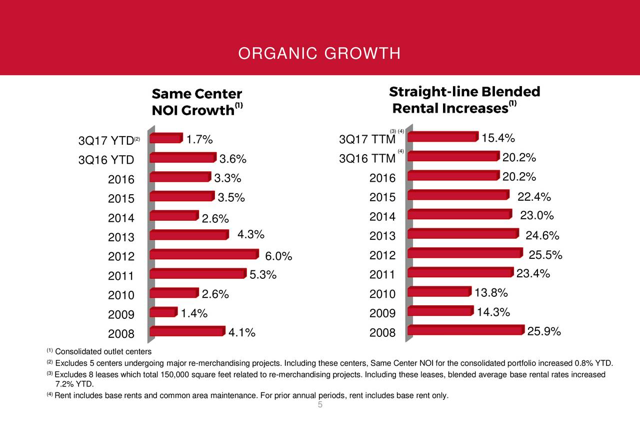 Strong Balance Sheet
The company has a strong balance sheet, with 71% of its credit line unused and available for future growth.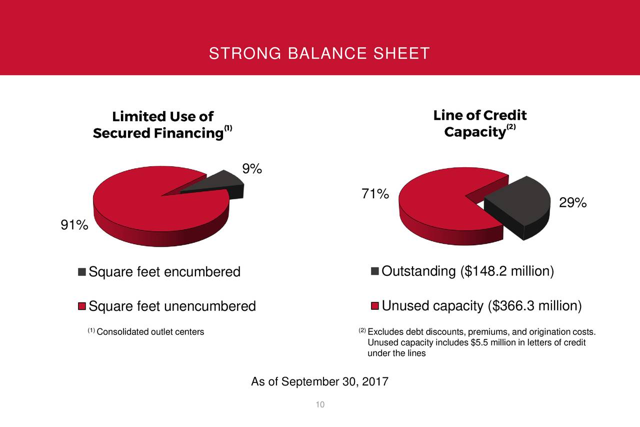 Ratios Are Balanced
Tanger's debt-to-assets ratio is a comfortable 52%, and the REIT has 4.88 times the amount it needs to cover the interest on its outstanding debt.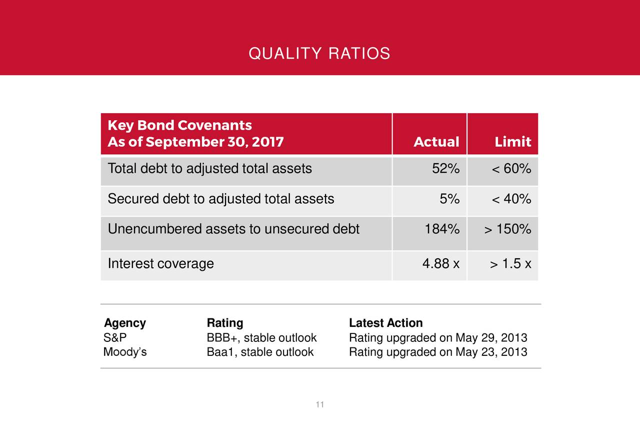 Manageable Debt And Maturities Spread Evenly
Mortgage debt is minuscule and bond debt out to 2027 is uniform, around $250-350 million maturing most years.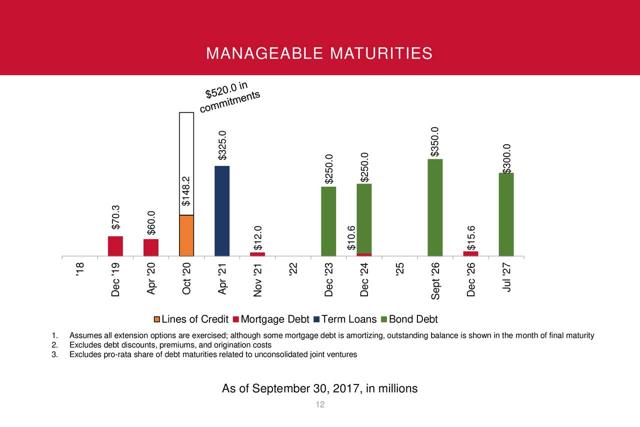 Fixed- To Variable-Rate Debt Comparison
Only 16% of Tanger's debt is variable-rate. This conservative approach means that 84% is fixed-rate, making it easy to manage. When rates rise in the future, it will have minimal effect on a company that carries most of its debt at fixed rates. And because increasing rental escalators are built into leases, the company derives the best of both worlds.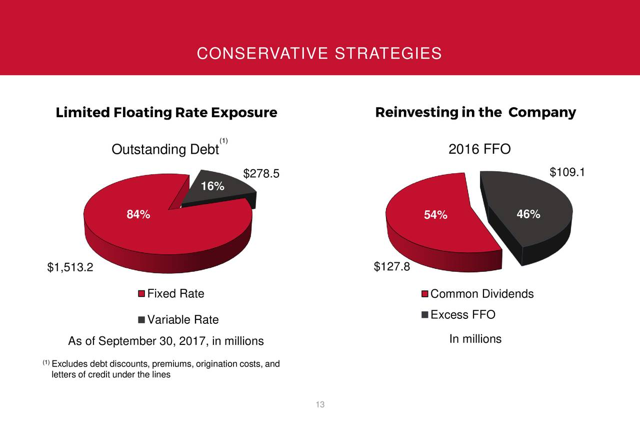 Plenty Of FFO To Go Around
Only 54% of its FFO was devoted to the payment of dividends to shareholders, leaving a large amount, 46%, in excess FFO available for continued expansion and growth of the company. It also leaves plenty of room to grow and expand the dividend in the future.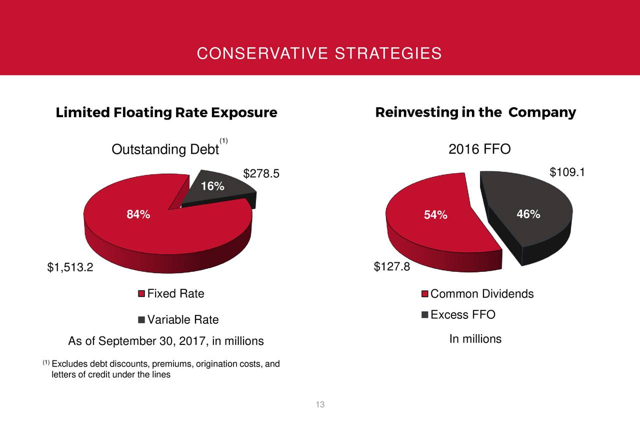 The Piece de Resistance – Dividend Growth
Tanger's dividend growth since its IPO has been on a tear, with another 5.4% dividend increase promulgated in 2017. This makes for a 24-year record of paying an increasing dividend to shareholders.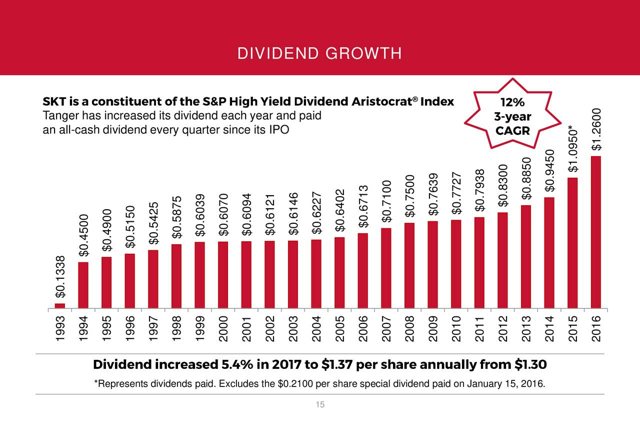 Earnings Guidance Raised
Earnings guidance going forward has been revised upwards.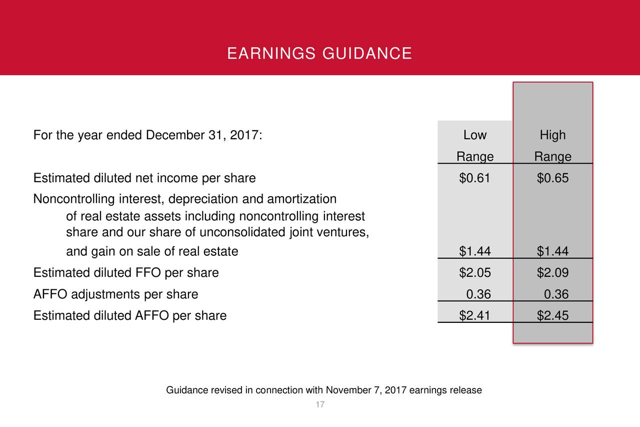 High Occupancy Rates Assure Flow of Funds For Dividend Payments
Since the company's IPO in 1993, occupancy of its properties has been consistently at 95% or greater.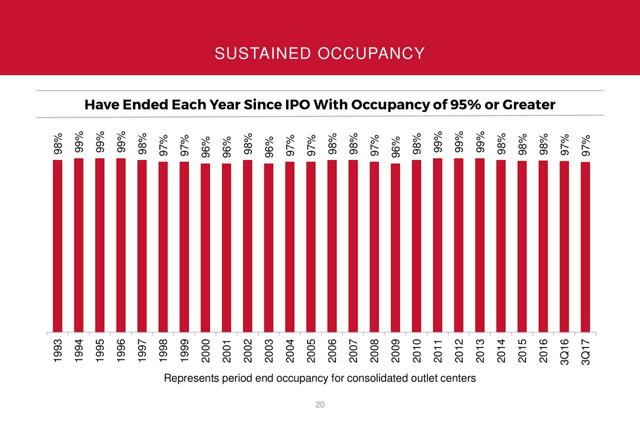 Diversified Tenant Base – Major, Public Companies
Because Tanger's tenant base is very diversified and focused on publicly traded, nationally recognized companies, it is very easy for the REIT to replace one tenant with another of equal brand strength. This trait minimizes tenant downtime and loss of rental revenue.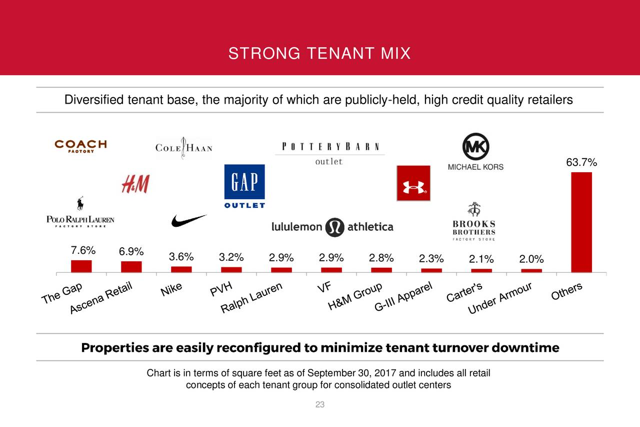 Need A Company Motto?
This could be viewed as the company's motto: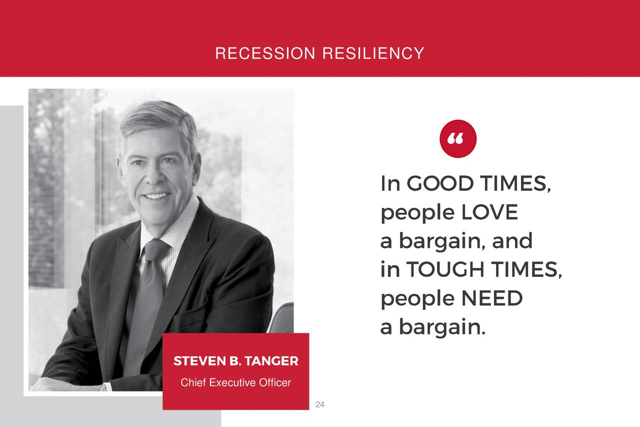 Would You Like Icing On That Cake?
As income investors, our main focus is on the growing dividend stream, which has been consistent and strong. The icing on this cake has been total return to shareholders over the past 10 years that has handily beat comparisons to a widely followed REIT index as well as a major REIT Retail index.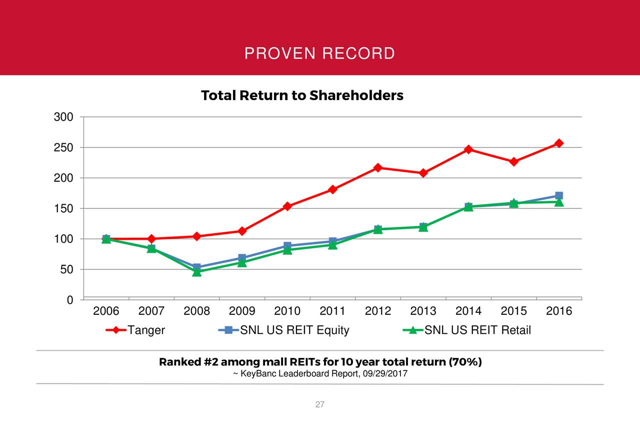 Digital Is Part Of The Strategy And Customer Experience
Not to be left out of the digital and online shopping experience, Tanger has made large inroads in this regard to capture consumer attention for its tenant base. The company makes excellent use of email marketing, mobile apps, charging stations for consumer use at its outlets, and digital directories to help shoppers find their destinations. In addition, it makes good use of social media and offers free wi-fi to shoppers at all of its properties. All of these amenities make the shopping experience at the company's properties more pleasant and convenient for shoppers.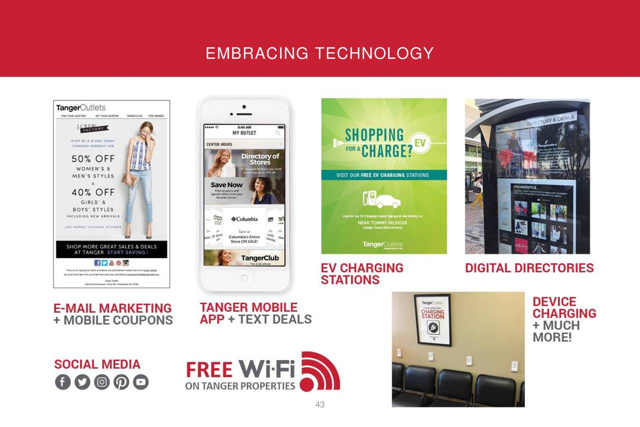 Membership Advantages
Membership has its advantages. Tanger uses various elements to inculcate loyal shoppers and cultivate return, repeat business.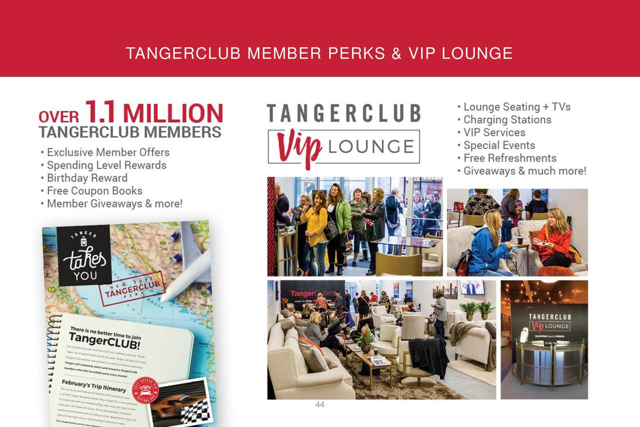 About Tanger Outlet Centers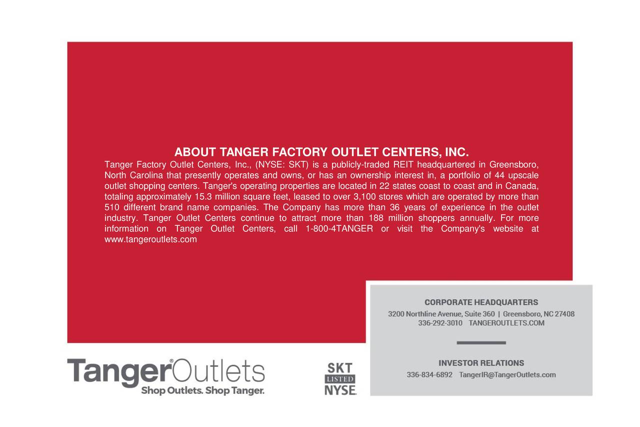 Slide deck source: Company earnings presentation
Conclusion
The death of retail has been greatly exaggerated. Companies like Tanger that find a niche for themselves and serve it well will continue to grow and prosper.
Remember the founder's mantra? When times are good, consumers love a bargain. They'd like to pay less than suggested retail for that Coach handbag. And when times are not so good, consumers need a bargain. This is the niche Tanger serves so well.
This is why this investment, bought on sale, saving us almost 40%, is a bargain. As income investors we both love and need to supplement our Social Security benefits when it's time for us to retire. Tanger is one such company that will help us to retire, one dividend at a time.
Final Thoughts
Investors who dismiss the pernicious effects of inflation do so at their own peril. The pervasive loss of purchasing power that it inflicts can turn a comfortable $500,000.00 nest egg into a scrambled egg, just 20 or 30 years into the future. Monetizing your assets and investing to stay ahead of inflation will keep this bogeyman away. Investing in companies like Tanger that consistently raise the dividend year after year will help keep inflation damages in check.
Our subscriber portfolio uses these and many other strategies as we actively manage it on an ongoing basis to generate steadily growing, reliable income for retirement. In addition, subscribers get the benefit of instant free texts and receiving material days before the public, in addition to many exclusive articles, updates, commentary and analysis throughout the week. If you'd like a taste of even better performance and faster dividend growth, before the free two-week trial offer expires, I encourage you to try it before you buy.
Author's note: Should you be interested in reading any of my other articles detailing various strategies to enhance your returns on a dividend growth portfolio, you will find them here.
For a few more days, feel free to join hundreds of your fellow readers who have taken advantage of a free two-week trial to our premium newsletter subscription. Try before you buy, with no obligation.
To learn more about this highly rated premium service, click "Retirement: One Dividend At A Time."
See what subscribers have to say in reviews they've written.
As part of our premium subscription program, all subscribers receive a free Portfolio Income Tracker to track income production in the subscriber portfolio and stay focused on income production in their own portfolio.
My promise to you: With every exclusive article, email, instant text and chat, I'll help guide you to:
Increased income for retirement, one dividend at a time.
Undervalued stocks for a greater margin of error and higher capital appreciation.
Methods to safely diversify your portfolio.
Strategies to build, grow and protect your income for retirement.
As always, I look forward to your comments, discussion and questions. Do you buy bargains on sale, or do you wait for prices to fall even further? Are you concerned whether the dividends in your portfolio are sustainable? Does this concern lead you to companies with long histories of paying a growing dividend? Please let me know how you approach these situations in your own portfolio and how you arrive at your decisions.
If you'd like to receive immediate notification whenever I write new content, simply click the "Follow" button at the top of this article next to my picture or at the bottom of the article, and then click "Follow in real time."
Disclaimer: This article is intended to provide information to interested parties. As I have no knowledge of individual investor circumstances, goals and/or portfolio concentration or diversification, readers are expected to complete their own due diligence before purchasing any stocks mentioned or recommended.
Disclosure: I am/we are long ALL FTG PORTFOLIO STOCKS.
I wrote this article myself, and it expresses my own opinions. I am not receiving compensation for it (other than from Seeking Alpha). I have no business relationship with any company whose stock is mentioned in this article.
Related Posts: